For the Brokenhearted, Bewildered, and Betrayed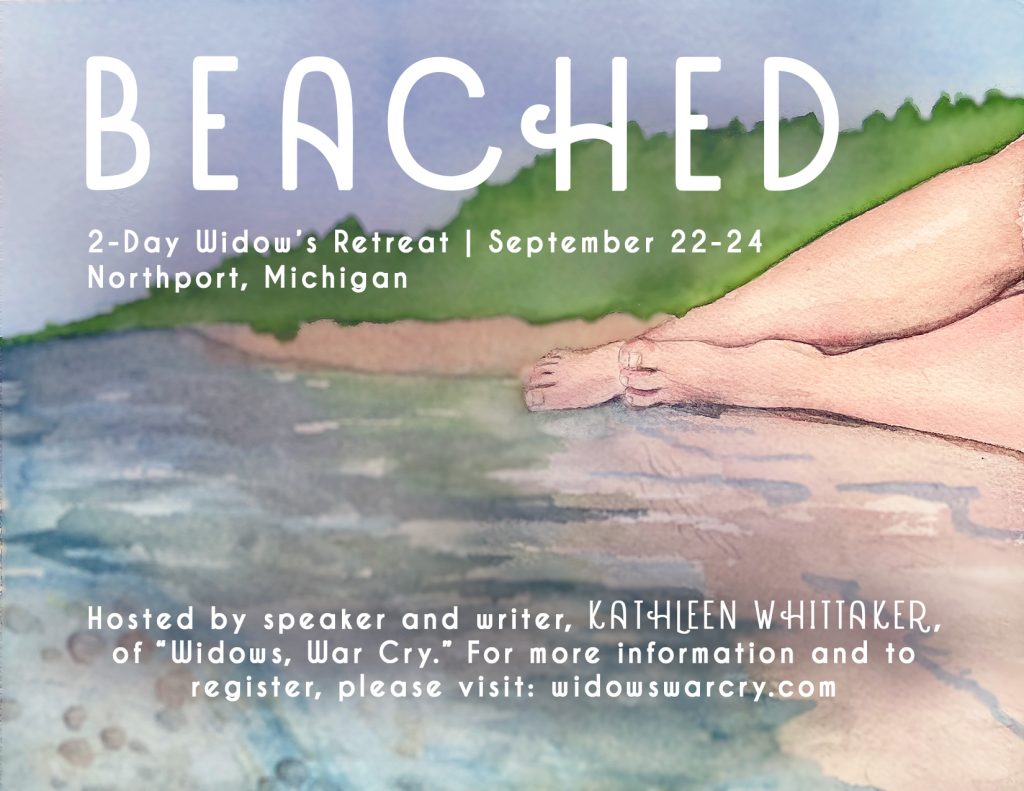 You have not washed up on the shores of heartbreak to be abandoned. Beached is a 3-day mini-retreat specifically designed to inspire and uplift you. It matters not whether you have been widowed for a short time or for years, have remarried, or chosen to stay single – you belong, and we would love to be a part of your unfolding story.
Surrounded by beauty on the shores of Lake Michigan our first annual mini-retreat will include luxuriously peaceful lodging, thoughtfully prepared meals designed to heal not only your body but your mind soul, and spirit, inspirational talks, art therapy, creative movement sessions, recreational activities designed to restore mind and body, along with ample time to reflect and meditate.
Cost: $575  Sponsorships available for widows in need of financial support. Transportation to and from the airport will be accommodated.
Preregister to secure your spot by contacting Kathleen Whittaker via messenger or email: ragamuffintheatre@gmail.com, or call: 231-622-3522.
Widows War Cry identifies with the struggles of those walking out their personal "Trail of Tears," as a result of either the death or betrayal of a spouse.
Analogous of the Cherokee Nation forced to march a grueling 2,200-mile trail to desolate "Indian Territory," we who are widowed find ourselves displaced by unforeseen tragedy, trudging a path we would never have chosen for ourselves. Each gut-wrenching step we take gives birth to unimaginable pain and suffering as we journey deeper into unfamiliar places of loneliness, isolation, and unanswered questions.
The egregious Indian Removal Act of 1830 resulted in the death of thousands leaving those who survived alienated, confused, and fearful. So it is with the widowed.
Writer C.S. Lewis penned these words after the death of his wife, words that cause me to feel understood, yet exposed.
"For in grief nothing "stays put." One keeps on emerging from a phase, but it always recurs. Round and round. Everything repeats. Am I going in circles, or dare I hope I am on a spiral?
But if a spiral, am I going up or down it?
How often — will it be for always? — how often will the vast emptiness astonish me like a complete novelty and make me say, "I never realized my loss till this moment"? The same leg is cut off time after time."
The amputation of soul we feel as we walk out our trail of tears exposes us to the risk of experiencing yet another death, the death of our spirit – and that is a tragedy I am unwilling to accept. Spiral we may, but not alone.
And so here is my war cry, my anthem, my battle cry for the broken and wounded who fight alongside me to keep breathing. Be it a whisper or a shout, hear my Call to Arms compelling you to engage where vulnerability creates connection. May the mixing of our tears create a tidal wave of courage and compassion seeping into our weary hearts – hearts that are dry, desperate and dying. And as we journey together to our new designated territory may we not become casualties, but rather conquerors.
Those who suffered death from exposure, disease, and starvation along the original "Trail of Tears," signal a warning to us who are now walking out ours. Neither could we control our circumstances, loss of identity or forced removal of those we loved, but we can rise with dignity and inner resolve awakening the warrior within.
Sign up to receive our newsletter & new blog posts